The hard fist of morality treats the noble nature of egoism altogether without compassion.
You start back in fright before others, because you think you see beside them the ghost of right…. Another would simply ask thus: Do I will what my opponent wills? "No!" Now then, there may fight for him a thousand devils or gods, I go at him all the same!
-Max Stirner
Just, adj. Just as I want.
–L.A. Rollins
Animals kill animals of certain species for meat. Human beings kill other human beings—and avoid killing certain animals—for metaphors.
-Thomas Szasz
A status update a friend posted on Facefuck proved quite the convo-starter a week or two back:
Queen AW thinks that the world would be a much better place if people would stop regarding morality as an inconvenience.
Now it turns out my quoted friend, a staunch ethical vegetarian, posted this as part of week long "activism" campaign; initially encountering her status sans context prompted my amoralistic arse to let rip with the question: "Whose [morality]?"
After a little back 'n' forthing between us (more on that in a bit) she boiled her take on "morality" down to this:
I consider the moral action to be that which provides the least amount of suffering (or you can do what you want as long as you don't infringe on others)…
Such is my preference in interpersonal (human) affairs, as someone who values liberty, tolerance and being left the fuck alone.
However, she then said…
I do realize morality is subjective though, and that wasn't my point in this status.
…which left me confuzzled as to her actual point.
I mean, if she sees "morality" as a subjective matter, why speak of it it in a manner befitting an impersonal, absolute law? Doesn't that kind of talk belie a belief in the subjectivity of ethics? In any case, with all those clashing, competing outlooks in the ethical arena, would she really find it desirable if folks everywhere took whatever they called "morality" seriously?
During our back 'n' forth, I brought up the example of Uganda, with its anti-queer culture (and legal system), to illustrate my point: easy to endorse moral conviction in others, until you see the morals they're convicted to.
Ugandan misohomists make ol' Freddy Phelps look like Queen of the Gay fucking Mardi Gras!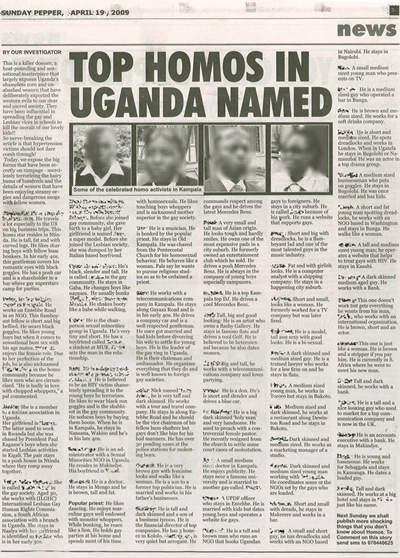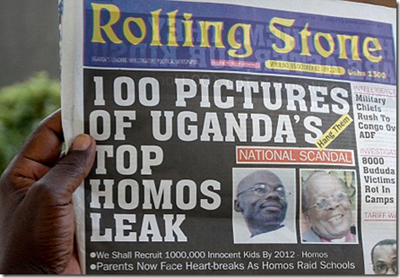 Still, no one can accuse 'em of treating their "morality as an inconvenience"; more hardcore than the likes of Mary Whitehouse ever were, they crank that odious moral panic dial all the way over nine-thousand! Cue suffering and infringement upon Uganda's homosexuals: an undesirable state of play from Queen AWW's (and my) perspective, but a result for those Godfearin' Ugandans for whom concerns of "suffering" and tolerance pale before enforcing the edicts of the Almighty.
Quite the inconvenience if you're queer and Ugandan, no?
Nevertheless, as far as God Warriors go, Ugandan moralists fight a much more zealous fight than most of their Western cousins-in-Christ: in our exchange, as in a previous Infernal episode, I made mention of the rather fervent anti-abortionists who, whilst never hesitating to harangue godless "baby-killers", will always stop short of endorsing violent action against those involved in the business. If that lot truly think that abortion equates to paedocide, why not cheer on their brothers-in-arms who take action to stop such? Does their belief in the sanctity of all human life induce something of a paralysis? Or do they simply lack the courage of their convictions, fearing the law of Man more than that of their Lord? Either way, the dissonance must do a number on their collective moral compass!
And either way, as a pro-choice infidel, their dissonance suits me just fine .
Based on her own professed (anti)religious sentiments, it wouldn't be a stretch to say Queen AW thinks along similar lines…
…but would she do so if she saw abortion in the same light as she does the abattoir?
See, from my perspective, the anti-abortionists and ethical veggies don't really differ all that much: both "speak" for life forms that cannot speak for themselves; both want to preserve their pet life forms from the machinations of Man; both pitch their stances primarily in moralistic terms; both make use of Godwin attacks; both harbour their extremists (clinic-bombers and PETArds); both raise some ponderworthy points (Is late-term abortion generally worth the effort? Could factory farming stand to be more humane?)…
…and both tend to denounce and downplay each other; that is, they see each other's morality as an inconvenience.
Being unrepentantly pro-choice on both issues, I expect I'd be viewed as something of an unmensch on either side of the fence. Nevertheless, if nowt else, I can at least claim consistency; I've yet to encounter anyone who I could call 100% pro-life; that is to say, in favour of both foeti and fauna.
Still, almost to a person, every religious "pro-lifer" I've spoken to, heard of, or read about has held no qualms about gorging on faunal flesh; just as nearly every veggie I've spoken to, heard of, or read about (including Queen AW) holds no qualms regarding kicking an unwanted foetus to the kerb in the name of female freedom. In the internal logic of Christian fandom, their stance makes sense, what with man being commanded to multiply and dominate the (non-human) animal kingdom; but what of the abattoir-abhorring atheist who has no Creator, and consequently no transcendent "truth", to turn to? What makes an abortion "moral" and an omelette "immoral": don't both involve ending life?
Excluding the Malthusian and misanthropic strains, what possible basis could atheistic, pro-choice, ethical vegans have for prizing a chicken egg over embryonic human life, especially since the less extreme ones tend to favour human life in other contexts (anti-war, anti-death penalty)? During our exchange, Queen AW described "situations where someone knows something is wrong, but don't care to do anything about it". This, I think, describes the moderate anti-abortion folk I mentioned pretty well; yet, at least within the internal logic of their mythos, they know abortion as a "wrong". On what grounds do irreligious herbivores decry their pet hates as "immoral"? One could speak of "suffering", yet what makes "suffering" an inherent evil, especially as some people esteem its benefits in certain contexts?'
I suspect that irreligious vegans would counter by asserting the incapacity for "informed consent" in farm animals and their embryos; which just makes wonder: If postnatal kids and livestock–embryonic and otherwise—are "off-limits" on those grounds, why not human embryos?
Does that question sound…inconvenient?
So be it.
Scrape away the rhetorical gloss and I bet you'll find all kindza unrefined desires 'n' sympathies at play, influencing this stance or that. Beefsteak Brenda prefers babies to bovines, thus she fights in favour of the foeti; Babe makes eyes at Misopaedic Maya on her way to the abortion clinic, compelling her to save the sow from slaughter; and Ruttish Roger takes one look at Alluring Alicia, clad in her lettuce bikini…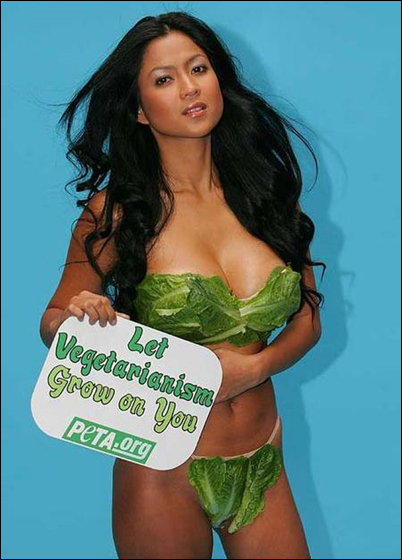 …and declares himself a hardcore vag- I mean, vegetarian (all the while hoping some veggie vixens become…erm…meat-eaters).
Sometimes—probably more than that—"rectitude" amounts to nowt but rationalized ressentiment….
…or raunchiness….
Contrary to popular belief, baby dicks *do* have a fanbase!
Imagine someone smearing their shit on a canvas and calling it high art, and you'll get an idea of how I've come to see those who crusade in the name of "morality". And if, as I suspect, all ethics ultimately amount to aesthetics, more people die (and kill) for their art than I first thought.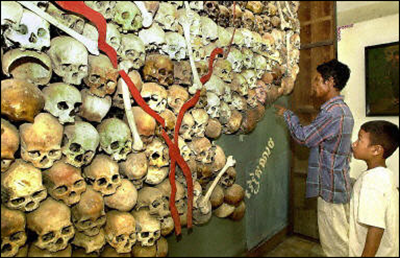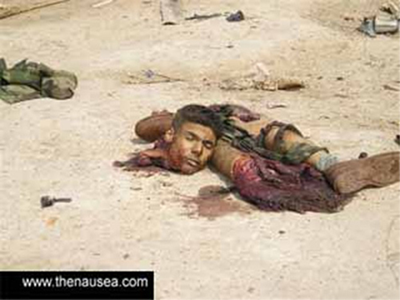 Here's to more folk viewing "morality" as an inconvenience; that may well chafe the sensibilities of the would-be uplifters and Righteous Ones, but it'd certainly please me.
If the moralists have a problem with that, well, bring it on: there's something to be said for a clash of outlooks.
~MRDA~