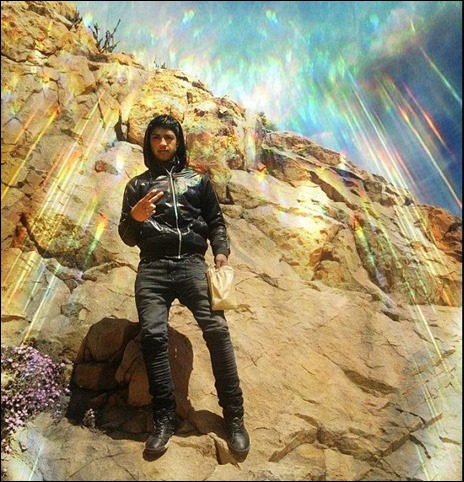 It didn't help my sour mood two Sundays ago to read the story of the Chilean zoo lions killed to save a man who'd leapt into their enclosure in an apparent stab at suicide. According to reports, 20-year-old Franco Luis Ferrada, messiah complex in tow, taunted the initially indifferent pair into making a meal of him, stripping off to display the fleshy feast awaiting them; when they saw fit to take the bait, zoo staff responded by filling the lions with lead, their initial tranquilisation attempts having struck the god-pozzed suicide wannabe instead of his desired means of exit.
Despite not being particularly animal-adoring, I couldn't—and can't—help but wish that those bullets had hit Ferrada instead of the felines. In fact, were I the zookeeper, I'd give him a word of gratitude (and the lion chef the day off) on account of his self-righteous suicide: Cheers for feeding the cats, Señor Soylent Green!
As self-induced exits go, it makes up for in magnanimity what it lacks in swiftness, tidiness, and painlessness: why go out with a gunshot when you can do so as dinner, donating your vital viscera to the needy? I'd tell Bono and Geldof to eat their bleeding hearts out (or serve them to the starving) if I thought they could hear me over the clinking of their concern-corralled coinage. As things stand, I'll simply slag off the staff for snuffing out the lions and preventing a suicide most succulent; why didn't those zookeeping shitlords just respect the life, death, and lunch choices of the parties concerned? It's the Current Year, for fuck's sake!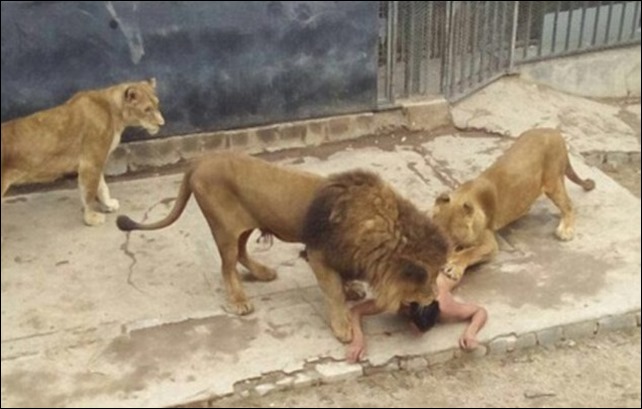 Seriously, live and let dine next time, pendejos! As suicides go, I find that scenario far less disturbing than some of the success stories that have popped up on my newsfeed over the past month. Take the case of the Netherlands child abuse victim who opted for lethal injection as an adult, her experience having left her head as fucked as her body (more than) once had been; unlike Ferrada, she eschewed direct action, instead appealing to the medical middleman, who, despite her many mental maladies—including hallucinations, PTSD, and abject Oblomovism—declared her "totally competent" to opt for a death dosage. Following hot on the heels of that report came the story of another Netherlands nightcap, this time administered to a woman afflicted with an acutely inhibiting case of germphobia. Once again, I found the situation disquieting.
But why does this bother me of all people? After all, I just gave the thumbs-up to a bloke opting to become lion chow, think that the Land of Free Disposal—as described by Sarah Perry in Every Cradle is a Grave—sounds like a grand old place, and see suicide as the ultimate exertion of self-ownership (in the Stirnerian sense); so, what gives? Plainly put, it's the clinical, institutional nature of the aforementioned "suicides", with the entrustment of literal life-and-death decisions to a bunch of bureaucratic box-tickers, that gets to me. As I said in a discussion with Dain of Dry Hyphen Olympics, I'd be much more at ease seeing suicide kits sold at the local Londis (or 7-Eleven, in the case of you Statesiders) than with having the process administered at the drop of a hat by a clipboard-clutching civil servant and his white-coat brigade.
Not that my preference lacks the potential for abuse either: I can foresee disgruntled marrieds putting a few frail, burdensome, nagging in-laws "out of their misery", for instance. Experience also tells me that I'd hardly be heartened by the prospect of certain people in my life opting to self-terminate (oh, how I wish I were a psychopath!). Still, I'd take the risk of a dear friend plumping for a corner-shop exit over the prospect of them being shoved through that door for the sake of clerical convenience. Dain holds the opposite view, seeing the medical middleman as a welcome hurdle against folk checking out in haste; but, for fear of sounding like I wear a tinfoil hat, I tend to view such institutionalisation as a Trojan-horse for less self-selected acts of "euthanasia": think hospital boards needing to free up beds and cut costs to justify that sweet, sweet state largesse lining their coffers.
It's also worth taking into account these disturbing factoids, as mentioned by Jim Goad in his 2013 article 'Softly Putting the Monster to Sleep':
…according to a recent poll, Belgians don't seem crazy about choice. Three quarters of them said they support euthanizing children with terminal diseases, even without the child's consent. A similar quotient favored euthanizing adults with severe dementia—again, whether or not the demented adult had any choice in the matter. And a proposed law would legalize euthanasia for terminal kids and demented adults.

More troubling is the fact that in a study of 248 Belgian euthanasia deaths in 2007, 120 of them—nearly half—involved "a patient who received life-ending drugs without his or her explicit request." Other studies have shown a similar quotient of euthanasia procedures being conducted "without request." Technically, that's illegal. Technically, that hasn't stopped it from happening, either. Nor has it stopped the emergence of a cottage industry that peddles the harvested organs of euthanized patients. Quite literally—at least in terms of market value—many people may be worth more dead than alive.
The mention of organ harvesting reminds me why I raise an eyebrow at the "presumed consent" of opt-out organ donation schemes, like the one mandated by the Welsh government back in November: if legislators lay claim to the contents of one's body, what's to stop the cunts from drawing up a live-and-let-die quota in the event of a shortage, decreeing a set number of perfectly salvageable, non-suicidal patients from whom to withhold treatment?
Furthermore, the prospect of institutionalised "euthanasia" in the context of the totalitarian humanist state raises another question in my mind: What stops ideological dissidents from being declared "demented" and done away with under such a regime?
In my ideal Land of (Mostly) Free Disposal, state-run medical and clinical institutions (if they even still existed) would only get to have a hand in one's suicide in the event of a terminal and/or acutely life-inhibiting physical condition, with safeguards similar to those in Lord Falconer's Assisted Dying Bill curtailing potential abuses; meanwhile, check-out kits would be available at the local checkout for those looking to let it all go for whatever personal and psychological reasons they please—no middleman, or medical malpractice, required! To once again quote Goad: "Big Brother is not invited to the suicide party."
And yes, said set-up would allow for the death-desiring to donate their organs to starving zoo cats whilst still warm, throbbing, and sealed in the skin. All else aside, it'd save their kin a fortune in funeral fees!
~MRDA~